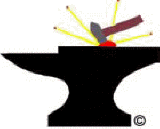 MT Forge
Charcoal, fire & a steak are all that's needed to complete this officer's brazier.
Replicated from an actual artifact of the 18th century.
Grill area is 6" X 6"
stands about 8" high
Wooden handle
Item# 010149 .................... $ 125.42
Shipping wt. = 8 lb. 11 oz.


A larger brazier for when company comes to visit in your tent or at your campsite.
This brazier is NOT period correct, but sometimes practicality is more important.
Overall size is 22½" long X 10" wide X about 10" high.
Grill measures 8¾" x 19" Grill can be removed.
Door on end can be opened and used to feed wood into the fire.
Brazier is made to fit 18" long pieces of wood. Charcoal could also be used.
Set includes an expanded-metal fire grate for the wood to sit on which
allows the ashes to fall through to the built-in ash pan.
Item# 010151 .................... $ 144.39
Shipping wt. = 24 lb.


Trivet
Each double brazier has 2 corners made for trivets.
Each trivet can be slid up and down and can turn 360o on its pivot.
Each comes with a thumb screw to hold the trivet in place.
They may be used for holding pots, coffee pots, tea kettles, and small Dutch ovens.
One trivet -- Item# 010153 .................... $ 9.44
Shipping wt. = 2 lb.

Heat Shield
Flat plate that sits on the feet of the double brazier, forming a shield between the fire and the surface upon which it sits. Protects table, grass or other surface.
Also makes a great warming shelf.
Measures 10" x 18"
Heat Shield -- Item# 010152.................... $ 10.75
Shipping wt. = 3 lb.